Explosion Accident Lawyer in Houston, TX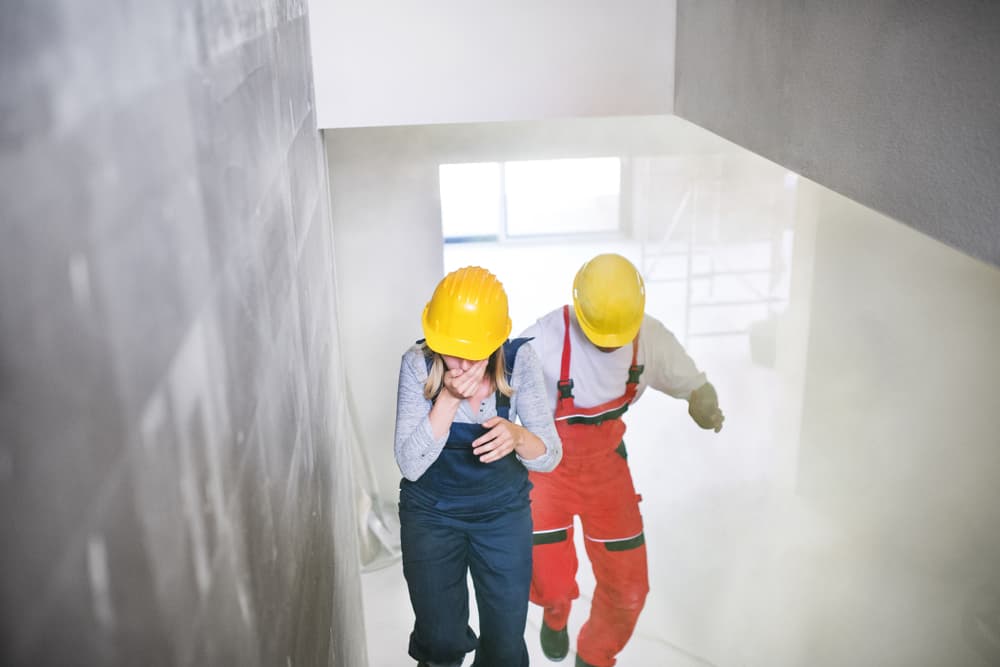 Due to the concentration of heavy industry in the Houston area including refineries and chemical plants, explosion accidents in the workplace are more common here than in other parts of the country. Workplace explosion accidents can leave workers with catastrophic life-altering injuries and in all too many instances, fatalities.
Without adequate compensation for the harm caused by a workplace explosion accident, you could be stuck with costly medical bills on top of painful physical injuries.
The Houston workplace explosion lawyers at The Callahan Law Firm know that these accidents can devastate the lives of injured workers and their families. That's why we want to help you aggressively pursue full compensation for your injuries and damages. Our attorneys have over 25 years of experience helping injured workers secure the money they're entitled to from at-fault corporations and their insurance companies.  Over the years we have a history of recovering millions of dollars for individual clients and their families.
Contact our office for a free, no-obligation consultation with a Houston workplace explosion accident lawyer.
Our Lawyers Help Victims of Explosions in Houston Workplaces
At The Callahan Law Firm, we have been fighting for the rights of injured Houston workers for more than a quarter-century. We're prepared to help you by:
Investigating the accident to determine how it happened and who is responsible
Identifying all the potential ways of recovering compensation, including a personal injury lawsuit based on negligence, strict liability for a defective product, and gross negligence
Gathering evidence to support your case and document the full extent of your injuries related to the accident
Filing a lawsuit against those responsible for your injuries and damages
Negotiating a settlement, when possible, that is acceptable to you
Taking your personal injury case to trial and presenting it to a jury when the defendants and their insurance companies refuse to listen and be fair to you and your family.
How Explosions Happen in Houston Workplaces
In general, explosions happen at workplaces when a fuel source is ignited by a spark or flame. And with a large number of petrochemical refineries, chemical plants, and other industrial facilities in and around the Houston area, the likelihood of workplace explosions and fires is significant.
Workplace explosions however are not limited to Houston's oil refining, chemical, and related industries. Accidental explosions can happen in manufacturing facilities, construction sites, warehouses, or even seemingly "safe" places like office buildings. A spark can trigger an explosive blast if flammable or combustible fumes are in the air. Therefore, any business that works with combustible fuel sources is at risk of an accidental workplace explosion.
What Are the Most Common Types of Workplace Explosions?
Some of the most common types of workplace explosions in Houston and throughout Texas include:
Petrochemical refinery explosions – Chemical plants and oil refineries use a variety of vessels, tanks, towers, piping, machinery, and heavy industrial equipment to process fuels and other chemicals into usable products. If flammable gases or liquids are exposed to a spark, open flame, or other ignition source, explosions and fires will happen.
Pipeline explosions – Pipelines typically contain oil, gas, or some other flammable substance that can leak and cause explosions and fires.  These leaks can result from poor pipeline maintenance, defective equipment, construction work near existing pipelines, or one of many causes which can prove catastrophic.
Propane tank explosions – Many businesses have on-site propane tanks for various purposes. If a propane tank is damaged, improperly maintained, or otherwise in an unsafe condition, the fuel inside can leak and then combust when exposed to an ignition source.
Chemical explosions – Chemicals under pressure or that are otherwise easily combustible must be handled with extreme care. A stray spark can lead to a deadly blast if it comes in contact with volatile gases or liquids.
Electrical explosions – Defective or faulty wiring in a workplace, whether at a refinery, chemical plant, on construction site, or on a drilling rig can cause a spark or electrical arc that leads to a blast when a combustible fuel source is present.
Common Causes of Workplace Explosions
Examples of the many potential causes of accidental workplace explosions in Houston and throughout Texas include:
Improper handling of flammable materials, such as oil, natural gas, and industrial chemicals
Unsafe storage of combustible liquids and gases
Inadequate maintenance of equipment and vessels
Failure to follow safety policies and procedures including lockout/tag-out rules
Inadequate training for workers handling combustible materials
Failure to properly clean up spilled or leaked chemicals
Faulty or defective electrical wiring
Inadequate supervision, monitoring, and inspections of work sites
Common Injuries Resulting from Workplace Explosions in Houston
Workplace explosions can cause severe injuries, either because of the initial blast or secondary physical trauma. Some of the most common types of injuries stemming from workplace explosion accidents include:
Damage to the lungs and respiratory system
Amputations
Fatalities
Spinal cord injuries, including paralysis
Crush injuries from workers or equipment thrown by a blast force
Psychological distress including PTSD, flashbacks, nightmares, anxiety, and depression
Types of Claims that can be made for Compensation for a Houston Workplace Explosion Injury
In general, there are two different types of claims that could be available as a result of an accidental workplace explosion in Houston.
The first is a workers' compensation claim.  This type of claim can be made when your employer carries workers' compensation insurance and you were hurt on the job.  With this claim, the workers' compensation insurance carrier should pay for most medical care related to your injuries and a portion of your missed wages. The benefits available through the workers' compensation system, however, are limited and do not provide full justice to the injured worker.
The second type of claim is made by filing a personal injury lawsuit against the company or companies (not your employer) that caused or contributed to the workplace accident and your injuries.  Defendants in the lawsuit can include one or more companies that were on the work site, the manufacturer and seller of a defective product, or some other company whose negligence caused the incident and your injuries.  Claims that are made in a personal injury lawsuit can be based on negligence, strict liability for a product defect, and gross negligence.  In the lawsuit, the injured worker can seek full compensation for the injuries and damages.
Damages – in the past and future – that can be recovered in a personal injury lawsuit include the following:
Medical care expenses
Loss of earnings and loss of earning capacity
Pain and suffering
Disfigurement
Mental anguish
Physical impairment
Loss of consortium
Our workplace injury attorneys can tell you more about what compensation you may be able to recover for your injuries from a workplace explosion.
Contact Our Experienced Explosion Accident Lawyer Today
If you've been injured in a workplace explosion in Houston or anywhere in the state of Texas, The Callahan Law Firm is ready to fight for your rights. Contact our office today for a free case review with an experienced explosion accident lawyer in Houston.