Houston Catastrophic Injury Attorney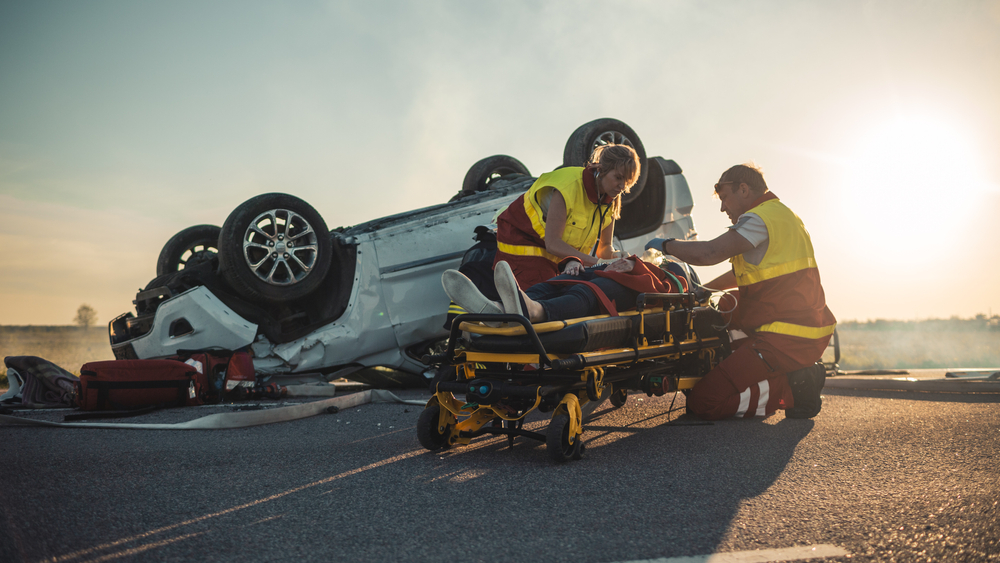 A catastrophic injury can turn your entire life upside down from one moment to the next. Catastrophic injuries often come with astronomical medical costs and other damages. However, if someone else is responsible for your injury, suffering, and financial losses, you could be entitled to compensation for your injuries and losses.
A Houston catastrophic injury attorney can help you get clear on your legal options and pursue the compensation you deserve. Contact The Callahan Law Firm today to determine whether you have a case and could recover damages. The consultation is free and confidential.
What Is a Catastrophic Injury?
According to U.S. Code 42 U.S.C. § 3796b, a catastrophic injury is a severe injury that permanently prevents a person from performing gainful work. A catastrophic injury can describe a shortened life expectancy due to an injury, a permanent disability, or a significant medical condition. Individuals suffering from a catastrophic injury may need long-term medical treatments or around-the-clock care. 
A catastrophic injury can come with significant and ongoing healthcare costs and may result in financial hardship for individuals and their families. However, if an individual suffered a catastrophic injury due to someone else's recklessness or negligence, they could hold the at-fault party liable for damages. 
Since the costs of a catastrophic injury can be very high and last a lifetime for the sufferer, potential settlements should reflect the injury's serious and permanent nature. A catastrophic injury attorney at The Callahan Law Firm can protect your legal rights and fight for proper compensation on your behalf.

Types of Catastrophic Injuries
Any type of injury that has a profound and permanent effect on an individual's life and prevents them from working can be a catastrophic injury. Injuries commonly considered catastrophic include:
Can I Get Compensation for My Catastrophic Injury in Houston?
Provided the accident that led to your catastrophic injury happened due to someone else's negligent or reckless conduct, you could pursue damages from that at-fault party. The amount of compensation victims can recover will depend on their particular case and the extent of their injury.
Types of economic damages include: 
All past, present, and future healthcare costs

related to the catastrophic injury

Lost income, future lost income, and future lost earning capacity
Household services and health aide visits
Required modifications to the home and vehicle
Out-of-pocket expenses
A catastrophic injury is not only physically painful and limiting but can also cause severe emotional anguish. According to the National Center for Biotechnology Information (NCBI), common post-injury mental disorders include depression, anxiety, and post-traumatic stress disorder (PTSD). 
Victims of catastrophic injuries could be entitled to significant non-economic damages to compensate them for their physical and emotional suffering. Non-economic damages can include awards for:
Physical pain 
Emotional distress
Reduced life enjoyment
Loss of a sense or a limb
Disability
The Difference Between Catastrophic Injury Cases and Other Personal Injury Cases
A catastrophic injury case is a type of personal injury case. There can be some critical differences between the two, as there is generally much more at stake in a catastrophic injury case. 
Examples of potential differences include:
Worth of the Case

–

Catastrophic injury cases can potentially be of a much larger value than typical personal injury claims. That's because a catastrophic injury has lifelong consequences on the life and career of an individual. Economic damages such as medical bills and income loss can far exceed the damages in a typical personal injury lawsuit. Likewise, non-economic damages such as pain and suffering or loss of life quality are likely to be substantial with a catastrophic injury. 

Lasting Effects of a Catastrophic Injury

–

Individuals are not usually expected to fully recover from a catastrophic injury. Victims may have to deal with the devastating consequences of a disability for a significant time or even for the rest of their lives. They may face lifelong medical treatments, frequent doctor's appointments, and ongoing physiotherapy. In some of the worst cases, an individual may never be able to live an independent life again, requiring around-the-clock care. Having a catastrophic injury lawyer by your side can be crucial for estimating the future medical costs and other damages that can accumulate in a lifetime.

 
Need for Expert Witnesses

–

Since a lot can be at stake for the victim and the at-fault party in a catastrophic injury case, these cases typically require expert witness opinion from medical professionals, economic experts, vocational experts, and others.

Possibility of a Long Fight for Compensation

–

Some personal injury claims can be resolved with a relatively quick out-of-court settlement. However, getting your due in a catastrophic injury case will most likely be a tougher fight since the payouts can be large. Insurance companies will most likely fight tooth and nail rather than settling for what a victim deserves. Since payouts for catastrophic injuries can potentially reach millions of dollars, depending on the injury and circumstances, catastrophic injury claims can have more likelihood to go all the way to trial. 
What to Do After a Catastrophic Injury in Houston
Individuals suffering from a catastrophic injury will understandably focus on recovery and healing. However, seeking timely legal assistance can be crucial for recovering compensation. 
The injured individual or a family member should consider contacting a Houston catastrophic injury attorney as soon as possible to gather evidence and build a case against the negligent party. Acting promptly could help victims recover the maximum amount of compensation. Waiting too long could result in a barred claim and no financial recovery.
Contact a Houston Catastrophic Injury Attorney
Handling a potentially stressful, lengthy, and complicated catastrophic injury case on your own can feel overwhelming. You do not have to struggle on your own. Our experienced attorneys are here for you and ready to work tirelessly in your best interests.  
The Callahan Law Firm has been fighting for the rights of accident victims for over 25 years. Our attorneys can handle all aspects of your catastrophic injury case, leaving you free to recover. You pay no fees until and unless we win your case.