Category:
Brain Injuries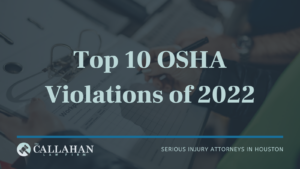 OSHA just released a list of the top ten violations for 2022. Each year, they make a list to determine the most commonly found OSHA violations in the workplace. They do so that they can then work to address the major common issues and help companies mitigate risk in the…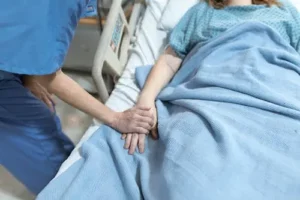 Traumatic brain injuries can be serious, and sometimes deadly. Data from the CDC states that in 2019, approximately 223,135 people were hospitalized due to traumatic brain injuries, and a reported 64,000 people suffered TBI-related deaths nationwide in 2020 – about 176 people a day. In the state of Texas alone,…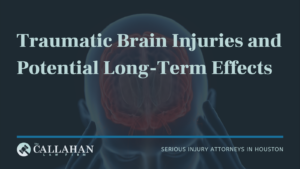 Traumatic brain injury is a national epidemic. The Centers for Disease Control states that every 21 seconds, somebody in the U.S. sustains a traumatic brain injury. This equates to 4,100 people each day, or 1.7 million each year. For 52,000 people, the injuries sustained prove to be fatal, and for…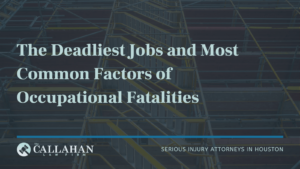 The National Census of Fatal Occupational Injuries, part of the Bureau of Labor Statistics, found that on average, one person died from a work-related injury every 99 minutes. The Census reported 5,333 fatal workplace injuries in 2019. This is a 2% increase from the year prior, with occupational fatalities totaling…
Pedestrian accident fatalities have risen sharply around the country, including in Houston and throughout Texas. Call for a free case evaluation. Not since the early 1990s has the nation seen so many pedestrians struck and killed by vehicles, and traffic safety experts are scrambling to determine why in order to…
Many people have heard about traumatic brain injuries (TBIs), but few realize how common these injuries are in the United States. Data from the Center for Disease Control and Prevention (CDC) show that an estimated 52,000 people die every year in the United States as a result of a TBI….