Catastrophic Injury Lawyer in Pasadena, Texas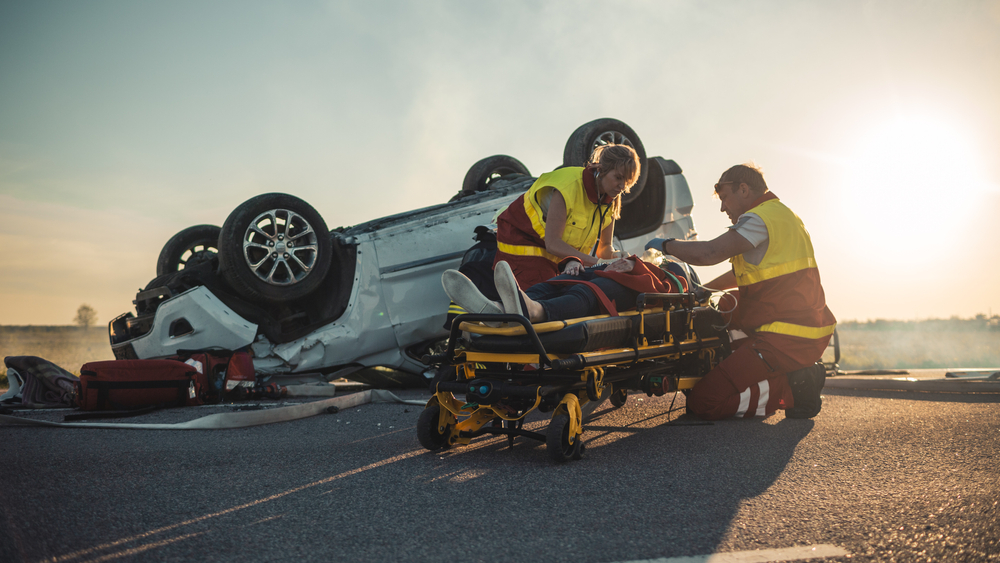 Catastrophic injuries can upend your life in an instant. Paralysis, loss of a limb, traumatic brain injury, and other debilitating injuries require extensive medical care and assistance, leading to expensive medical bills, financial stress, and diminished quality of life.
At The Callahan Law Firm, we understand the trauma as a result of being badly hurt in an accident that wasn't your fault. The devastation can be overwhelming when you discover your injury is permanent and will have a life time effect on your physical abilities. While no amount of money can undo the accident, fair compensation can help you live the fullest life possible – and we want to help you demand it.
Contact us now for a free case review with a catastrophic injury lawyer in Pasadena, Texas, to learn how The Callahan Law Firm can help.
What Makes an Injury Catastrophic?
Catastrophic injuries are in their own category, differing from other injuries in their extreme severity. While the term has no standard definition across all jurisdictions or contexts, it is generally understood to describe an injury that substantially affects a patient's life in the long run. The medical care and rehabilitation required is a long and painful process. The truth is that catastrophic injuries are life-altering and all too often, permanent.
What Are the Common Types of Catastrophic Injuries?
Losing an essential bodily function or body part affects all aspects of a person's life. The consequences of a catastrophic injury in Pasadena, Texas, can include an inability to live independently and complete basic tasks. Although some injuries heal with few or no complications, others impact people for the rest of their lives.
Common examples of catastrophic injuries include:
Spinal cord injuries
Paralysis including paraplegia and quadriplegia
Amputation and loss of limb
Crush injuries
Traumatic brain injuries (TBI)
Severe burns such as 3rd degree burns
Loss of eyesight or hearing
What Causes Catastrophic Injuries in Pasadena, Texas?
While many different circumstances can lead to a catastrophic injury, some cause more severe impairments than others. The most common causes of catastrophic injuries include:
Motor vehicle accidents – Collisions between cars, trucks, and motorcycles unleash enough force to cause devastating injuries. A vehicle occupant – whether driver or passenger – can suffer crush injuries, traumatic injury from striking the inside of the vehicle, and in some cases ejection from the vehicle. Pedestrians are especially vulnerable when struck by a motor vehicle and subject to catastrophic injuries.
Workplace accidents – While some workplaces are inherently more dangerous than others, severe accidents can happen on any worksite. A catastrophic injury can result from a fall while working on scaffolding or other elevated platform, malfunctioning equipment due to poor maintenance or defect, or careless operation of equipment such as a forklift. Even something as simple as tripping on unsafe flooring can result in a traumatic brain injury or spinal cord damage.
Pedestrian accidents – Any motor vehicle collision has the potential to cause severe injuries, and that is especially true when the victim is on foot. Pedestrians are at an increased risk of catastrophic injuries because they're out in the open with nothing to protect them from the impact of a vehicle or moving heavy equipment.
Fires and explosions – Flammable and toxic substances can catch fire if stored improperly or mishandled. Some fires start when electrical components malfunction and create sparks, or because of a welding arc. Fires can cause severe burns while the force of an explosion can result in a TBI, paralysis, or spinal cord injury from the blast knocking a person to the ground.
Construction site accidents – Construction work is very dangerous, and it becomes even more so when site supervisors and other contractors don't take appropriate safety precautions. Heavy machinery, working at heights, and multiple contractors working on site can create significant risks and increase the chance of a catastrophic injury.
Maritime and offshore accidents – Working on the water, on an offshore platform, or on a dock poses heightened risks to workers. Catastrophic injuries frequently result from the heavy equipment, dangerous conditions, and flammable substances used in maritime and offshore work.
Differences Between Catastrophic Injury and Other Personal Injury Cases
Personal injury cases stemming from catastrophic injuries are more complicated because of the following factors:
Expert witnesses – Catastrophic injury cases often require testimony from expert witnesses. Workplace safety experts, OSHA experts, accident reconstruction experts, vocational experts, healthcare providers, life care planners, and others can speak to the cause of the incident, the extent of the injuries, and the long term effects on a victim's life.
Case value – Catastrophic injuries such as paralysis, brain injuries, or limb loss necessitate long-term care. Patients will need surgeries, physical therapy, occupational therapy, rehab, and more. If unable to walk or complete specific tasks themselves, they need to hire someone to help them in their daily routine. All of this costs money and increases the amount that will be demanded in the case.
Longer legal process – Claims involving less-severe injuries are frequently less complicated and sometimes quicker to resolve. However, a catastrophic injury requires a thorough examination of the long-term effects, which are usually profound and costly. Since insurance companies want to avoid significant payouts, they are likelier to fight claims stemming from catastrophic injuries.
Permanent damage – Catastrophic injuries lead to permanent medical conditions. Most people never fully recover and suffer from chronic pain, limited mobility, impaired cognition, and other impairments requiring additional treatment long after the case ends. That means accounting for future medical care and life care costs when determining the amount that needs to be demanded in a case.
What Kinds of Damages Could I Recover for a Catastrophic Injury in Pasadena, Texas?
The amount of money you recover will depend on the unique factors in your case, including the strength of your evidence and the quality of your attorney. You might have a number in mind that you think is fair and reasonable as a case value, but the insurance carrier will disagree. They want to pay you as little as possible so they can keep generating more profits for their shareholders.
You should not pursue your case without an experienced workplace injury attorney on your side. At The Callahan Law Firm, we will work to determine the value of your case and aggressively seek the compensation owed to you for:
All past, present, and future healthcare costs related to the catastrophic injury
Lost income and loss of earning capacity
Physical impairment
Pain and suffering
Mental anguish
Disfigurement
Loss of household services
Costs of home healthcare
Costs of modifications to the home and vehicle
Contact Our Pasadena Catastrophic Injury Lawyers Today
Are you looking for a qualified attorney for your catastrophic injury case? The Callahan Law Firm is ready to help and we have the experience, skill and resources to maximize the value of your case. If you choose to work with us, you will be our priority as we work tirelessly for you and your family to build a strong case and hold the negligent individual(s) and company(ies) accountable for their actions.
Contact us today to get started with a free consultation.