Life Insurance Claim FAQs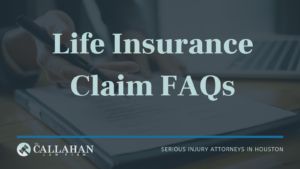 Life insurance claims can be difficult to navigate, especially in the wake of loss. Here are some of the most commonly asked questions about life insurance and life insurance coverage. If you have questions about your life insurance claim or believe your life insurance claim was wrongfully denied, call The Callahan Law Firm to speak with one of our life insurance lawyers.
Who can be a life insurance beneficiary?
When a life insurance policy is taken out, the insured will usually be asked to designate a beneficiary to receive the payment upon their passing. A beneficiary can be a person, such as a family member or loved one, or an entity, such as a charity or a trust.
A policyholder may choose to designate one beneficiary or multiple beneficiaries. If they designate more than one beneficiary, the policyholder must declare who gets what percentage of the money. Policyholders can also choose a contingent beneficiary as a backup option to designate the payment for should the primary beneficiary pass away before or with the policyholder.
What is the common property rule?
Certain states, including the state of Texas, are common property states. In common property states, some types of life insurance policies are considered marital property. This means that if the policyholder wants to designate someone that is not their spouse as a beneficiary, the spouse must waive their rights to be a beneficiary of the policy.
What is the community property rule?
The state of Texas is also a community property state. With community property states, the timing of when the policy was purchased can control how it is categorized. If the policy was purchased prior to the marriage or after a couple divorces, generally it is considered separate property. However, if it was purchased during the marriage, it can be considered community property.
Can a former spouse receive life insurance benefits in Texas?
A former spouse's rights to life insurance benefits vary by state. In the state of Texas, there is a divorce revocation statute that applies to most types of life insurance benefits. If the couple divorces before the insured dies, the ex-spouse is automatically removed as a beneficiary. If the policyholder does not name an alternate beneficiary before passing, the funds will be passed to their estate.
However, there are several ways in which a former spouse may still receive life insurance benefits in Texas. If the divorce decree states the ex-spouse must remain the beneficiary of the policy, the policyholder may be required by the courts to leave them as the beneficiary.  The insured may also simply choose to re-designate their ex as the beneficiary after the divorce. Finally, a policyholder can designate their former spouse as a trustee for a minor beneficiary, such as a child they had together.
Additionally, Texas is a community property state. This means that if the policy was purchased during the marriage with shared funds, it may be considered community property, meaning that it is owned by both spouses even if the marriage has since ended.
However, certain type of life insurance policies purchased through employer provided plans are not subject to the divorce revocation statute.  If you are unsure, it is important to have a qualified attorney review the insurance policy and divorce decree.
The exact protocol will depend on the state the policy was purchased in and the policy language. It is important for policyholders to review the language in their policy as well as the rules in their state to ensure the preferred parties are set up to receive the payment.
What is a life insurance rider?
A life insurance policy rider is an optional, additional layer of coverage that you can choose to add to your life insurance policy to customize your policy to cover circumstances that your standard policy may not. Some of the most common kinds of life insurance riders include:
-Guaranteed Insurability Riders:
A guaranteed insurability rider makes it so that you are allowed to purchase additional coverage without giving evidence of insurability. This kind of rider allows you to ensure you are able to be covered without the consideration of other factors such as physical health. For example, many people purchase guaranteed insurability riders when they expect their health to change (for example, people who are planning to get pregnant) in order to ensure that even despite declining health, they are still able to get coverage.
-Accidental Death Rider:
In the event that the insured passes away due to an accident, an accidental death rider (also referred to as "double indemnity") allows the beneficiary to be paid out an additional sum on top of the life insurance policy. It is important for the insured to examine the language in the policy to see what events the insurance company would consider an "accident."
-Accelerated Death Rider:
An accelerated death benefit rider issues out a portion of the insured's death benefit while they are still living should the insured be diagnosed with a terminal illness. Generally, the accelerated death benefit rider will go into effect if the insured person's life expectancy is a year or less. The payment is meant to cover the cost of the insured's medical bills and end of life care. When the insured does pass away, the beneficiaries will get the money that is left over.
-Family Income Benefit Rider:
A family income benefit rider is a provision that provides the family of the deceased payments equal to the policyholder's monthly income after the policyholder passes away. In these cases, the insured would designate how long payments are to be disbursed to their beneficiaries after they pass away. If the insured is the family's breadwinner, they may want to consider purchasing a family income benefit rider to ensure their family's expenses are taken care of after they pass.
-Waiver of Premium Rider:
A waiver of premium rider waives the cost of future premiums if the policyholder loses their source of income due to injury and/or becomes permanently disabled prior to a certain age. This rider covers the insured in the case that they are unable to pay their monthly premiums so that their policy won't get cancelled.
Can you be denied life insurance?
Yes, you can be denied life insurance. An application for life insurance can be denied for a number of reasons, including having high-risk medical conditions, indulging in hazardous hobbies such as skydiving or bungee jumping, leaving important information off of the life insurance application, or being past a certain age.
Can you be denied life insurance for mental illness?
If you have been diagnosed with a mental illness, you can still qualify for life insurance coverage in some cases, though the cost of your premium may be higher. However, you can also be denied life insurance coverage for mental illness depending on the severity and management of your diagnosis.
Does life insurance cover suicide?
Most insurance policies have what is called a suicide clause. A suicide clause, usually 2 years, is a period of time after purchasing the policy that suicide would not be covered. This is to protect the insurance company from people who are purchasing life insurance and planning to commit suicide shortly after in order to give their beneficiaries a payout.
What is the difference between whole insurance and term insurance?
The difference between whole insurance and term insurance would be the length of time the purchaser is covered. Whole life insurance has no term limit from the first date of purchase, while term life insurance covers the insured for a set period of time.
With whole insurance, the insured will likely be covered regardless of when they pass away, while with term life insurance, the insured will not be covered if they pass away after the end of the allotted term.
Some people opt into term life insurance if they are unable to afford a whole life insurance plan, as the premiums are a little cheaper. Other times, people opt into term life insurance as a way to give themselves additional coverage for a certain period of time.
Is COVID covered by life insurance?
Life insurance plans put into place prior to the pandemic will generally cover you in the case you pass away from COVID-19, as long as your insurance policy is still active and you are making your payments on time. However, there may be some exceptions, so be sure to review the language in your policy.
If you are attempting to purchase a new life insurance plan, you may be affected by the pandemic in the process. If you have had COVID and are experiencing long COVID or lingering side effects, you may have difficulty finding coverage, or have to pay higher premiums due to your health conditions.
Why do life insurance claims get denied?
Life insurance claims can get denied for a number of reasons, including but not limited to having incorrect or misleading information in your application (material misrepresentation), failure to pay premiums on time, death within the contestability period, death via suicide during the suicide clause period, and other factors. If you feel like your life insurance claim was wrongfully denied, contact a life insurance lawyer to learn about your legal options.
What happens if you don't designate a life insurance beneficiary?
Typically, an insured person designates a life insurance beneficiary once their application for life insurance has been approved. However, if that beneficiary passes away before the insured does and the insured does not designate a replacement, the life insurance benefits would most likely go to the deceased policyholder's estate. However, the rules may vary depending on state law.
How long before a policyholder's death can a life insurance beneficiary be changed?
A life insurance policyholder has the power to change their beneficiary designation at any time. However, in some cases, a last-minute change could be an indication of fraud. For example, if the policyholder was ill during the time of the beneficiary change, the new beneficiary may have coerced them into making the change.
If you believe that the beneficiary designation was changed due to coercion, duress, or forgery, contact our Life Insurance Lawyers today. For more information about last-minute life insurance beneficiary changes and contesting a beneficiary change, click here.
Can I designate a minor as a life insurance beneficiary?
Some insurance companies will not let you designate a minor child as a beneficiary. If you would like to do so anyways, you may have to either name their legal guardian as the beneficiary, or create a trust for the child and designate the trust as the beneficiary. In making a trust, you can also specify when the payment is to be released, and designate what they are to be used for, such as education expenses.
Do I need a life insurance lawyer?
Generally, beneficiaries of a life insurance policy do not need to hire a life insurance attorney. However, there are several instances in which it may make sense to speak with a life insurance attorney. If you believe that your life insurance claim is being improperly delayed or was wrongfully denied, a life insurance lawyer can help you determine your legal options including contesting the denial and helping you get paid.
Additionally, if multiple people claim they are the beneficiary of a life insurance policy, the life insurance company generally will not attempt to determine who is the rightful claimant. Failure to pick the correct beneficiary can result in a lawsuit and in some cases, double liability. To avoid this, in these cases insurance companies will file a lawsuit called an interpleader and send the dispute to the courts to decide on. When an interpleader lawsuit is filed, many people choose to seek legal representation to help them litigate the interpleader.
—
Has your life insurance claim been delayed or denied?  Have you received notice that the life insurance company is interpleading your policy benefits with a court?  If you are having issues with a life insurance claim, contact The Callahan Law Firm today to speak with a Texas Life Insurance Attorney. Our Life Insurance Lawyers have been successfully representing people with insurance disputes for over 25 years. Give us a call at 713-224-9000 to speak with one of our attorneys, or fill out our contact form here so that we can respond to your inquiry.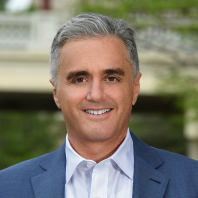 Michael uses his curiosity and skill to fight for people whose lives have been forever altered by tragic or traumatic events.