I was Rear-Ended by a Semi-Truck – What Should I Do?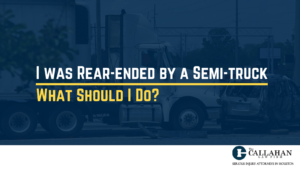 Getting into an auto accident is a traumatic experience, even if it is a minor fender bender. Those unlucky enough to be rear-ended by a semi-truck will have a number of challenges on their hands from treating and recovering from injuries, to lost time from work, to repairing or replacing a damaged vehicle, as well as pursuing legal action. If rear-ended or otherwise involved in a collision with a semi-truck, here are some basic steps that should be taken
Obtain Medical Attention
If injured – whether the injury is immediately apparent or if you believe you may be injured – seek immediate medical attention. That can be from the paramedics followed by evaluation at the local emergency room, or otherwise as soon as possible. There is nothing more important than your health after being involved in a vehicle collision, especially a crash involving a semi-truck. Even if you believe your injuries are minor or if you think that you feel okay immediately after the accident, it is best to be evaluated by a medical professional within 72 hours or less after the accident. And as a result of doing so, your symptoms, the diagnosis, and the cause will be clearly documented. Many times people involved in a vehicle collision believe they are okay at the scene and shortly after, often due to a surge in adrenaline or optimism that they will get better, only to wait for days or longer before seeking medical assistance. This is a gift to the trucking company and its insurer as they will deny your injury because of that delay. It's better to be safe than sorry. In sum, seek medical attention as soon as possible if you are or believe you may be injured.
Contact the Police
Call the police, report the accident and wait until a police officer arrives. The police officer will formally document the accident, interview witnesses and attempt to restore some order to an often chaotic scene. The police officer's investigation and write-up of the accident will provide critical information to help establish whether the truck driver's negligence caused or contributed to the crash. If the police officer leaves the scene without interviewing witnesses, if possible obtain the names and contact information of the witnesses. Also consider using your smartphone to record statements from any witnesses.
Take Pictures of the Accident Scene
If possible, use your smartphone to take photos of the accident scene, vehicles involved, skid marks, debris from the collision, injuries, and anything else that can help tell the story later of what happened, how it happened, and the harm caused.
Report the Accident to Your Insurance Company
Contact your auto insurance company to report the accident. If you are contacted by anyone about what happened, whether the other driver's insurance company or one of its investigators, be careful what you say. It is often a good idea to simply obtain their contact information, tell them you will return their call later, and don't answer their questions unless or until you have a lawyer on your side. Be careful with opposing insurance companies and their representatives as their goal is not to help you, but to save themselves and their insured as much money as possible.
As Soon as Possible, Contact an Experienced Truck Accident Attorney
The truck accident attorney you hire to represent you is critical to the outcome of your case and whether you will be adequately compensated. Too often people injured in truck accident cases hire inexperienced attorneys or attorneys who focus on other areas of the law to represent them simply because they do not know better. Do your research and hire an attorney who regularly handles truck accident cases and who will give your case the time and attention it deserves. And beware of the law firm that handles a "mass" docket or hundreds of cases as a time. The person who hires the wrong truck accident attorney will all too often receive minimal compensation or possibly flat-out lose their case.
Find an attorney who regularly handles trucking cases – a truck accident attorney – who will focus on your case. The best Houston truck accident attorneys are experienced, savvy, hardworking and have a history of success. At The Callahan Law Firm, our truck accident attorneys will fight for you and your family so that justice is served. Contact us today to schedule a free initial consultation to discuss how we can help.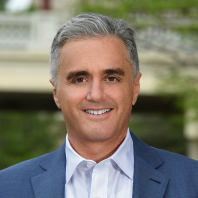 Michael uses his curiosity and skill to fight for people whose lives have been forever altered by tragic or traumatic events.