Category:
18 Wheeler Accidents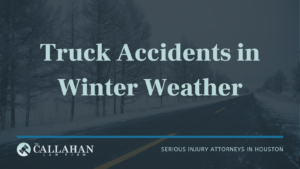 A loaded 18-wheeler can weigh up to 80,000 pounds, making them a major hazard for everyday drivers. The size, mass, and weight of these vehicles means that 18-wheeler accidents can be particularly dangerous for drivers in smaller passenger vehicles. Everyday drivers are even more at-risk in the winter months, when…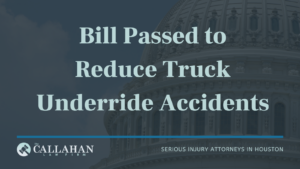 A new bill has been passed in hopes of lowering the number of underride accidents that occur on American roads. The Insurance Institute for Highway Safety and Highway Loss Data Institute (IIHS-HLDI) reported that one in 10 roadway deaths is caused by or involves a truck or 18-wheeler. Truck accidents…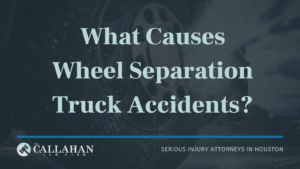 Despite advancements in truck safety, wheel separation truck accidents remain a leading cause of vehicle crashes. What causes these wheel separation accidents? Wheel separation truck accidents occur when the wheel of a truck unexpectedly detaches while in motion. To be clear, the wheel is the circular metal structure that attaches…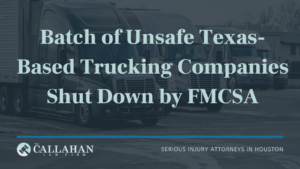 Government officials are working to better enforce federal regulations in hopes of reducing the number of unsafe trucks –and truck drivers—on the roads. A recent crackdown has shut down three unsafe Texas-based trucking companies in 2022 alone, and experts believe that more shutdowns are on the way. Adversity Transport Inc….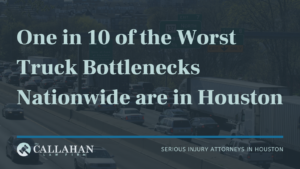 Houston has long been lauded as one of the country's worst cities to drive in, in part due to the never-ending traffic. New data from the American Transportation Research Institute shows that part of the problem is that Houston is one of the most bottlenecked cities in the country, accounting…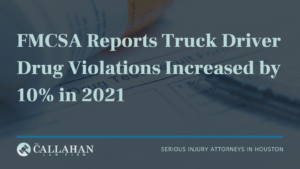 An empty 18-wheeler weighs roughly 35,000 pounds, and a fully loaded one can legally weigh up to 80,000 pounds. This means that if they are in a collision with a car, which on average weighs between 3,000-4,000 pounds, the force of the impact could have extreme consequences. Truck drivers have…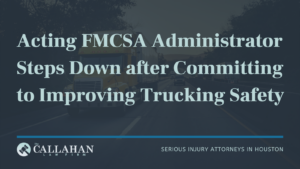 The acting administrator of the Federal Motor Carrier Safety Administration, Meera Joshi, has announced that she is stepping down from the position at the end of this month. Joshi was the acting administrator of the FMCSA for just under a year, and is leaving to accept a position serving as…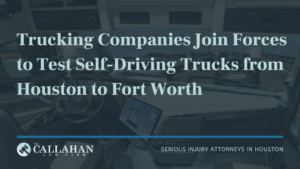 Trucking has long been an integral part of the American economy. The U.S. Census stated in 2019 that more than 3.5 million people were employed as truck drivers nationwide, making it one of the most popular professions in the country, and the American Trucking Association estimated that registered trucks traveled…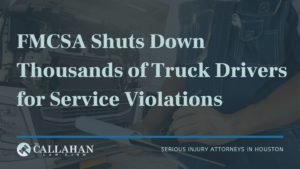 The Federal Motor Carrier Safety Administration oversees the trucking industry. Part of the Federal Highway Administration, the FMCSA is the lead government agency responsible for preventing truck accidents by regulating commercial motor vehicles and investigating violations. Unfortunately, the FMCSA found thousands of vehicles and drivers to be in violation of…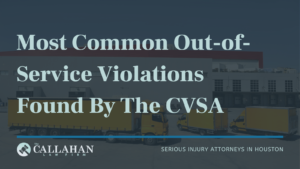 Every year The Commercial Vehicle Safety Alliance hosts an International Roadcheck, a 3-day inspection event that works to discover out-of-service violations and remove unsafe trucks and 18-wheelers from the roads. These vehicles are the backbone of the economy, so ensuring they operate safely is imperative, protecting drivers and fellow road…