Houston Saw a Record Number of Bicycle Accident Fatalities in 2020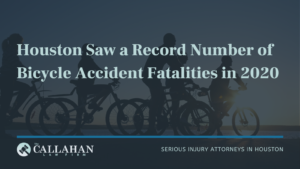 The coronavirus pandemic has altered the state of countless businesses worldwide, one of them being the bicycle industry. With the onset of the pandemic, people have been going to parks in droves, and biking has seen a spike in popularity. Tragically, this uptick comes an increase in cyclist road injuries and fatalities. Despite the drop in traffic on Houston roads, the city saw a record high number of bicycle accident fatalities in 2020.
A Look at The Numbers
In 2019, Houston saw 27 bicycle accident fatalities, a record high at the time. But that record was surpassed a year later, with 31 bicyclists suffering fatal injuries on the road in 2020. Though they make up only a fraction of road users, safety experts estimate that bicyclists make up 5% of road fatalities.
A preliminary analysis of the 2020 road fatality numbers by the Houston Chronicle reports that crashes involving bicyclists are down 15%. Yet despite the drop in crashes, bicycle accident fatalities are up 26%. Experts believe excessive speed by drivers is partially at cause for the spike—with many people working from home due to the pandemic, Houston roads are open for drivers to speed.
The Root of the Problem
However, bicycle advocates argue that this has been an issue long before the pandemic began. Joe Cutrufo, the executive director of Bike Houston, states that many Houston roads "were intentionally designed to accommodate" drivers alone, leaving pedestrians and bikers without a place to go. Busy, multilane intersections with no bike lanes, dimly-lit streets, and poorly designed road infrastructure leaves bikers at risk.
Time of day is another major factor. Approximately 70% of the fatal bicycle accidents that happened in the city of Houston in 2020 occurred between dusk and dawn, with 15 fatalities occurring where there was no light and 7 occurring where some light was present. The trend spans back several years; since 2011, 200 bicyclists have suffered fatal injuries in an accident, with 124 of those fatalities occurring at night. In addition, the involvement of drugs and alcohol is another major contributor to bicycle accident fatalities, with 74 out of those 200 deaths confirmed to have either the driver or the bicyclist test positive for drugs and alcohol.
Furthermore, safety researchers noted that based on bicycle accident data for 2020, the increase in recreational biking does not seem to be what caused the spike in bicycle accident fatalities. This is because the places where these fatal bike accidents occurred aligns with places that have proven to be dangerous for bikers in the past: areas with a lack of safe space for bike-riders, inadequate or absent lighting, and streets that make it easier for drivers to speed. Areas that saw an increase in bicyclist commuters, such as within and around the 610 Loop, saw a drop in bicycle accident fatalities as well. Instead, safety experts state that the spike in bicycle fatalities can be somewhat attributed to major suburban areas, as many of those roads were not built with bicyclists in mind.
The spike in bicycle fatalities matches the spike in car accident fatalities that has happened over the last year. The pandemic has reduced the number of motor vehicles on the roads thus lowering the number of accidents, but has also opened up the roads for drivers to travel at dangerous speeds, making the accidents that do occur much more likely to result in a fatality. In the greater Houston area (consisting of eleven counties), 718 road fatalities were reported in 2020. Of those 718 bicycle accident fatalities, 489 occurred in Harris County, a record-high despite a reduction in vehicle use by almost 50% throughout the pandemic.
While Mayor Sylvester Turner announced the city of Houston's action plan to end road fatalities by 2030, called Vision Zero, many of the changes necessary to achieve these goals are months, if not years, away. In the meantime, experts are calling upon drivers and bicyclists to be careful when sharing the road. Bikers are required by Texas law to have a front light and a light or reflector on the back of their bikes and encouraged to wear bright or reflective clothing when biking at night, while drivers are encouraged not to speed and to pay better attention to their surroundings.
——–
If you or a loved one have been seriously injured in a car or bicycle accident, it's imperative that you speak with an attorney right away. Contact our Car Accident Lawyers today at 713-224-9000, or fill out our contact form here and we will return your message shortly.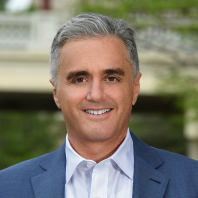 Michael uses his curiosity and skill to fight for people whose lives have been forever altered by tragic or traumatic events.