Common Causes of Motorcycle Accidents in Houston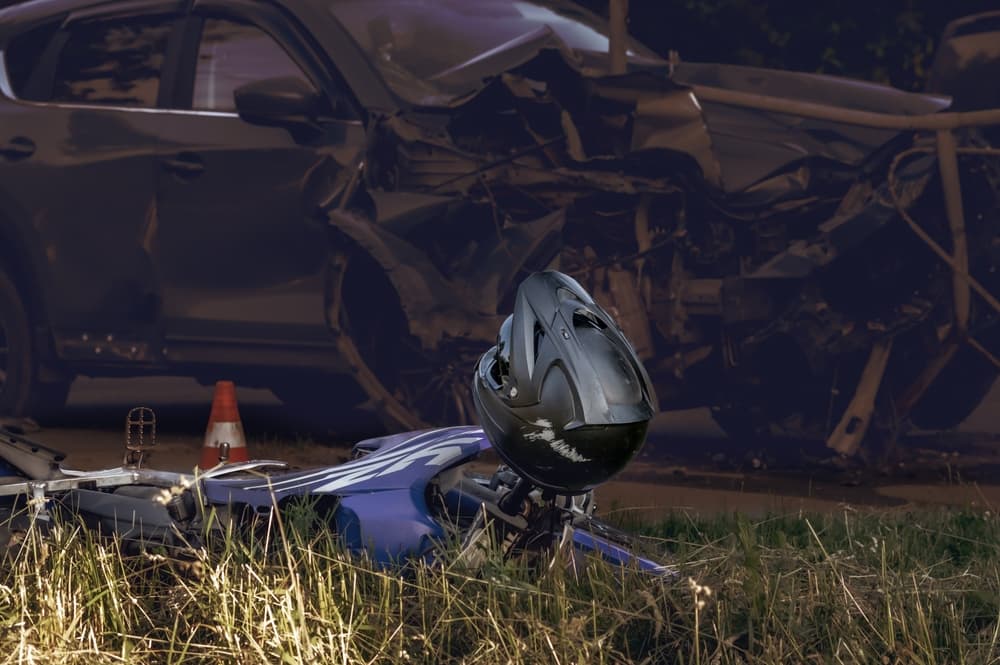 Houston is one of the biggest cities in the United States, both by population and geographic area, which means its roadways are some of the busiest and most dangerous in the country. Motorcyclists are at particular risk of severe injuries and death due to traffic collisions, and local media have noted that the city is among the deadliest for bikers.
But what causes motorcycle accidents, how can they be avoided, and what happens when they occur?
Read on to learn the answers to these questions from The Callahan Law Firm. If you're ever in a motorcycle accident and need help securing compensation from the person who hurt you, don't hesitate to contact us for a free case review with an experienced Houston motorcycle accident lawyer.
Why You Need Our Houston Motorcycle Accident Lawyers
Filing a motorcycle accident claim may seem like a simple task that can be accomplished by working directly with the insurance company. However, that is often not the case – especially if you want to recover the total amount of compensation you deserve.
The insurance company's top priority is not your well-being but their profits. They will likely offer a settlement that is significantly less than what you need to move forward with your life.  In addition, the insurance company will likely insist on a recorded statement taken by an adjuster who is trained to ask questions and elicit answers in a way that will hurt your claim.
Our experienced Houston motorcycle accident attorneys know what to expect from the insurance company and how to fight back against their tactics. We have the experience and resources to:
Independently investigate and review the accident to determine who was at fault
Identify all your losses to calculate the total value of your case
Aggressively negotiate with the insurance company to reach a fair settlement
File a lawsuit and take your case to court if it becomes the best way to get the full compensation you deserve
Most Common Causes of Motorcycle Accidents in Houston
Some of the most common causes of motorcycle accidents in Houston include:
Following Too Closely – When another vehicle tailgates or drives right behind a motorcycle, the driver may not have enough time to react if the motorcycle slows down or stops, causing them to hit or even run over the motorcyclist. Additionally, large vehicles such as SUVs, pickup trucks, and semi-trucks may not even be able to see a motorcyclist in their front blind spot while following too closely.
Left-Hand Turns in Front of an Oncoming Motorcycle – According to the National Highway Traffic Safety Administration, roughly one-third of motorcycle accidents involving another vehicle occur at an intersection when a vehicle turns into the motorcycle's path.
Failure to Yield Right-of-Way – This could occur at intersections, freeway on-ramps, and many other circumstances when another vehicle fails to yield the right of way to a motorcyclist. This type of accident is especially dangerous at high speeds, where motorcyclists not only face the initial impact but may also ricochet into traffic where they could be hit by other oncoming vehicles.
Drivers Not Sharing the Road – In heavy traffic, it is vital for drivers to be aware of motorcycles. Motorcycles are much smaller than other motor vehicles, making them easy to overlook. But because motorcycles lack many of the safety features of passenger vehicles, they can be especially vulnerable in a collision.
Speeding – High speeds can make any type of accident more severe. That is particularly true for motorcycle accidents because motorcycles lack protective frames, and their riders can be violently thrown when hit from the bike, often resulting in catastrophic injuries.
Driving Under the Influence of Drugs or Alcohol – Impaired driving is illegal and dangerous. Alcohol and drugs – even prescription or over-the-counter medications – can impact a driver's reaction time, judgment, vision, coordination, focus, and more.
Distracted Driving – Any behavior that takes a motorist's mind or eyes off the road is a potentially deadly distraction. Texting, eating, talking to passengers, changing the radio station, or even daydreaming can all be distractions that can lead to a motorcycle accident.
Dooring Accidents – Drivers and passengers of parked cars should look closely before opening their doors on the side that faces the street. If a car door opens suddenly in front of an oncoming motorcyclist, they may not have time to stop, leading to a collision.
Failure to Use Turn Signals – Turn signals let other road users know a motorist's intent to change lanes or turn. When drivers don't signal, they leave those around them with little or no chance to respond.
Dangerous Road Conditions – Most motorists understand the need to adjust their speed in response to certain conditions, such as poor weather, low lighting, slick roads, ongoing construction, and more. And when appropriate precautions are not taken by other motorists, collisions and injuries can occur.
Sometimes more than one of these factors can contribute to an accident. Our attorneys can gather evidence from multiple sources to understand the details of what happened and who may be liable.
Houston Motorcycle Accident Statistics
Here are some statistics that show how common motorcycle accidents are in Houston and throughout the country:
According to the Texas Department of Transportation, 521 motorcyclists were killed in accidents in Texas in one recent year.
Forty-five percent of those motorcyclists killed were not wearing a helmet.
That year was the third year in a row that saw a year-over-year increase in fatal motorcycle accidents in the state.
Nationwide, more motorcyclists were killed on the weekend than on weekdays, according to the Insurance Information Institute.
Over 60 percent of motorcyclist fatalities occurred between 12 noon and 9 pm.
Contact Our Experienced Houston Motorcycle Accident Attorneys Today
Have you been injured in a motorcycle accident in Houston? Was someone else at fault? If so, you could be entitled to financial compensation for the losses you suffered as a result, including your medical bills, lost wages, pain, suffering, impairment, and more.
Contact us online or call The Callahan Law Firm today for a free consultation and let us help you pursue the compensation you deserve.