Construction-Related Head Injury Attorney in Houston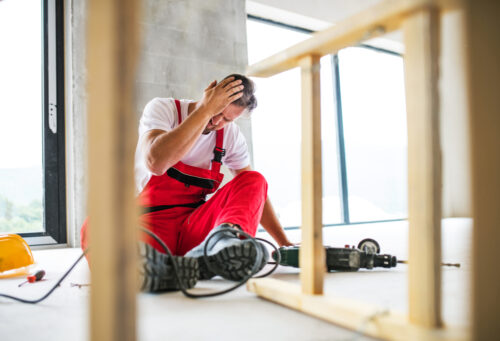 Construction workers face numerous dangers on the job. Heavy equipment, work trucks, power tools, working from heights, and multiple contractors performing different tasks increase the risk of serious injuries. If you suffered a construction-related head injury and someone else was at fault, under Texas law you may have the right to hold them liable in a personal injury case.
The Callahan Law Firm has represented injured clients in Houston for over 25 years. When you work with our firm, you can count on us to fight for your rights and pursue the full compensation you and your family are entitled to recover under the law.
Contact our workplace head injury lawyers today if you suffered a construction-related head injury or traumatic brain injury. We are ready to review what happened, why it happened, and talk to you about your legal options during a free initial consultation.
Head Injury Statistics
Head injuries in construction accidents are common throughout the United States. According to the Bureau of Labor Statistics, there were nearly 70,000 nonfatal head injuries in private-sector workplaces in one recent year. Of those, 5,160 were in the construction industry.
Common Head Injuries for Construction Workers
Multiple types of head injuries can occur in construction accidents. Many of those injuries are severe and can cause damage to the brain, leading to permanent impairment and disability.
Examples of the most common head injuries for construction workers in the Houston area include the following:
Concussions– A concussion results from a blow or jolt to the head causing the head to move forcefully back and forth or side to side inside the skull causing damage to the brain.
Brain hemorrhages– A forceful impact to the head can cause blood vessels in the brain to rupture, leading to internal bleeding. Bleeding inside the brain causes swelling and kills brain cells. Without prompt and adequate treatment, hemorrhaging in the brain can result in stroke, loss of brain function, permanent physical and mental impairment, and death.
Intracranial hematomas– An intracranial hematoma involves the pooling of blood underneath the skull and surrounding the brain tissue, putting harmful pressure on the brain.
Penetrating brain injuries– A brain injury is described as penetrating when an object enters the skull and pierces the brain.
Fractures – Trauma to the head can fracture the skull or other bony structures in the head including the jaw, temporomandibular joint, eye sockets (known as orbital fractures), and nasal structure.
Factors That Contribute to Head Injuries on Construction Sites
Construction site head injuries can happen for a number of reasons. And different companies or contractors on the work site can be responsible for what happened, whether because of worker negligence, defective machinery, unsafe operation of vehicles and construction equipment, or otherwise unsafe working conditions.
Some of the most common factors contributing to head injuries on construction sites include the following:
Falls from heights
Unsafe operation of construction equipment such as forklifts, manlifts and cranes
Malfunctioning machinery, such as cranes
Construction vehicle collisions including work trucks and delivery trucks
Crush injuries resulting from being caught between or underneath heavy equipment or machinery
Falling objects, such as tools and building materials
Inadequate safety rules
Lack of adequate lock out tag out rules
Inadequate training
Inadequate supervision of the worksite and workers
Lack of safety gear such as hard hats and respiratory protection
Failing to control entry into dangerous work areas
Flying debris from explosions
Tips for Preventing Head Injuries on a Construction Site
There are a number of basic precautions you can take to protect yourself while working on a construction site, such as:
Wearing a safety harness while working at heights to prevent a fall
Wearing a hard hat, especially under ladders and scaffolding
Following safety rules while on the work site, and when operating heavy machinery and equipment
Paying attention to your surroundings and staying clear of moving machinery and vehicles, active work areas, and work being done at heights above to avoid getting hit by falling objects
Filing a Personal Injury Lawsuit After a Head Injury
If your employer has workers' compensation insurance, after making a proper workers' compensation claim you should receive medical care by company-approved medical providers as well as limited loss wage benefits. The truth is, however, that workers' compensation benefits are very limited and do not fully compensate an injured worker for injuries and damages.  Interestingly, many construction companies in Texas do not carry workers' compensation insurance. If that is true for your employer – and your employer was negligent in causing the accident that injured you – you may be entitled to bring a personal injury claim against your employer.  That type of claim is known as a non-subscriber claim.
In addition to a workers' compensation claim, if your injury was caused by the negligence of a company or contractor who was not your employer, you should be able to pursue a personal injury claim against the at-fault party.  Companies and contractors who may be held liable for construction-related head injuries, include the following:
An at-fault contractor or subcontractor on the work site who is not your employer, also known as a third-party
Truck drivers who deliver material and equipment to the work site
Manufacturers of defective tools or equipment
Electrical power providers and electricians
Vendors who supply construction material for the project
Vendors who supply construction equipment for the project
Architects and engineers
Property owners
Unlike workers' compensation claims, a personal injury lawsuit against a responsible third-party company allows you to pursue compensation for the full extent of your injuries and damages. Claims for compensation in construction accident lawsuits can include the following:
Medical care expenses for emergency room visits, hospital stays, doctor's visits, physical therapy, medical equipment, prescriptions, rehabilitation, and other medical expenses – in the past and future
Lost wages resulting from your injury
Reduced earning capacity and future loss of earnings if you cannot return to work due to permanent injuries and impairment
Physical pain and suffering
Physical impairment
Disfigurement
Mental anguish and emotional distress
Costs of household services you can no longer perform, such as cleaning and laundry
Wrongful death damages when there is a fatality
In a construction accident that happens in Texas, the general rule for the statute of limitations is that you must file a lawsuit against the responsible parties within two years from the date of the negligence that caused the injury. If you do not and you miss the two-year deadline, you will most likely be unable to recover money damages for your injuries that could have been recovered through a lawsuit.  That is why it is critical to consult with an experienced construction accident lawyer as soon as possible after a workplace accident or construction accident to make sure your legal rights are protected.  Our experienced personal injury attorneys can take steps to preserve critical evidence in your case, keep track of deadlines and timely file legal documents, and handle your legal case so you can focus on recovering from your injury.
In cases involving death from a head injury that happened in a construction accident, under Texas law certain surviving family members have the right to file a wrongful death lawsuit against those responsible. In Texas, a surviving spouse, child, or parent can file a wrongful death suit against a responsible third-party on the deceased's behalf. In addition, if the fatality resulted from the gross negligence of an employer who had workers' compensation insurance, the surviving spouse and children can pursue a gross negligence claim against the employer.
A successful wrongful death lawsuit can compensate for losses such as:
Medical care expenses
Loss of earnings in the past and future
Mental pain and anguish surviving family members endure due to the death
Loss of the deceased's earning capacity and financial contributions to the family
Lost inheritance, including what the deceased could have saved and left to the family if they survived
Loss of companionship, love, society, and comfort
Loss of the deceased's maintenance of and services to the household
In Texas, the statute of limitations for filing a wrongful death lawsuit is two years from the date of the negligence that caused the loss of your loved one's life.
Contact Our Workplace Head Injury Lawyers
You or a loved one should not be stuck with the financial consequences of an injury that was not your fault. The Callahan Law Firm understands that the trauma of a head injury can be devastating and affect every area of an injured worker's life and his or her family. At The Callahan Law Firm, we have the knowledge, skill, resources and experience to help you pursue the compensation you are entitled to under the law for your injuries and damages.
If you suffered a construction-related head injury in the Houston area or anywhere in the state of Texas, contact the workplace head injury lawyers at The Callahan Law Firm today to get started with a free consultation.