Sideswipe Car Accident Lawyer in Houston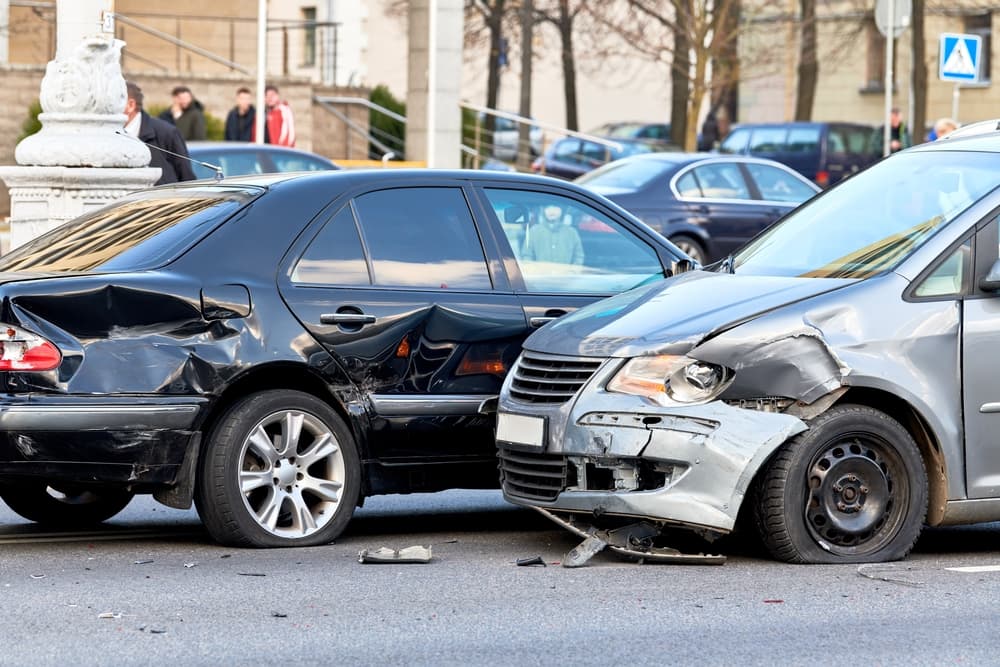 Anyone who has driven on Houston's bustling streets and congested highways knows that accidents are a daily occurrence. Sideswipe accidents are some of the most common collisions in our community.
Most cars offer little protection if struck on the side, meaning sideswipe accident and t-bone accident victims can suffer severe and life-changing injuries. Between the cost of medical treatment and lost income, the fallout from a sideswipe accident can seriously drain victims' finances.
The Houston car accident attorneys at The Callahan Law Firm know how devastating a sideswipe collision can be. We want to help you seek fair compensation after an accident. With more than 25 years of personal injury experience, our Houston sideswipe accident lawyers have recovered tens of millions of dollars for our clients. We are available to help our clients every step of the way. We will not let the insurance companies take advantage of you when you are vulnerable.
Contact us online or call our office today for a free, no-obligation case review.
What Is a Sideswipe Accident?
A sideswipe accident happens when two cars are traveling side-by-side, and one car moves sideways, causing a collision with the car next to it. In many cases, the initial impact from a sideswipe accident causes one or both drivers to lose control, leading to additional impacts and injuries.
Sideswipe accidents are among the most common kinds of crashes, both in Houston and nationwide. Data from the National Highway Traffic Safety Administration (NHTSA) in a recent year show that roughly 13 percent of all crashes across the country are sideswipe accidents. NHTSA data also shows that sideswipe accidents are the third most common type of collision.
Causes of Sideswipe Collisions in Houston
Some form of driver negligence causes the vast majority of sideswipe accidents in Houston. Common causes of sideswipe collisions include:
Driver inattentiveness — The main way drivers can avoid a sideswipe accident is to make sure nothing is in their path when changing lanes, overtaking, merging, etc. But if a driver is distracted, they can easily miss another vehicle next to them, especially if the other car is in a blind spot. Drivers talking on the phone, texting, snacking, adjusting their music, or otherwise being distracted are much more likely to cause a sideswipe collision.
Drivers experiencing road rage — Drivers who let their emotions get the better of them may make a sudden move that causes a sideswipe accident. If a driver is angry, they are likely to drive aggressively or speed, making it difficult to maintain control of their car. A driver with road rage might even get next to another vehicle to yell at someone, leading to an accident because the angry driver is distracted or loses control.
Drivers operating under the influence — Alcohol, and drugs severely affect drivers' ability to control their car. A driver under the influence of alcohol or drugs may experience dulled reflexes, impaired judgment, decreased situational awareness, and intense fatigue. These factors make a driver more likely to cause a sideswipe accident.
Merging without caution — Drivers need to be especially careful when merging to avoid a sideswipe accident. A driver who isn't paying attention when they are merging into a lane, or who tries to merge into traffic when there isn't enough room to do so is likely to sideswipe another car.
Drowsy driving — Drowsy driving can be just as dangerous as driving under the influence of alcohol or drugs. According to NHTSA, nearly 700 deaths resulted from drowsy driving-related crashes in a recent year. Drowsy driving and driving under the influence have similar effects on a driver's performance: slower reaction times, poor judgment, decreased ability to recognize dangerous situations, and a chance of falling asleep at the wheel. In cases of severe driver fatigue, a driver may steer their car into the path of another vehicle next to them.
Common Sideswipe Collision Accident Injuries in Houston
Because the sides of cars typically are not built with crumple zones as found in the front and rear of most vehicles, sideswipe accidents frequently cause serious injuries. Some of the most common injuries from sideswipe accidents in Houston include:
Back and spinal cord injuries — Getting hit from the side in your car can cause injury that results in intense pressure on the muscles, bones and connective tissues in the back and spine. The pressure can cause a range of back injuries, from herniated discs to damage to the vertebrae. In severe cases, injuries to the spine can partially or fully damage crucial nerve connections, which can affect a crash victim's ability to move or other critical bodily functions.
Traumatic brain injuries — Side-curtain airbags can reduce the chance of a brain injury in a sideswipe accident, but these devices can only do so much to protect the brain. A sideswipe collision could cause anyone inside the car to hit their head on an object or the vehicle's interior. Even if the skull itself does not sustain a direct impact, the force from the crash can be enough to move the brain inside the skull, damaging brain tissue, and blood vessels.
Amputated and crushed limbs — When a car's body gets mangled in a sideswipe accident, a driver or passenger's limbs can become entangled or crushed. Depending on the severity of the injury, an injured limb may need to be partially or fully amputated.
Burns — A sideswipe accident could potentially ignite the gas in the car's tank, causing severe burns to anyone inside. If anyone is trapped inside the vehicle after igniting, they could suffer devastating and horrific burn injuries.
Broken bones and orthopedic injuries — Broken bones and similar orthopedic injuries are some of the most common injuries in any car accident, including sideswipe collisions. The ribs, legs, spine, and other bones in the mid to lower areas of the body are especially likely to be damaged in a sideswipe collision.
Compensation for Sideswipe Collision Accidents
One of the main reasons to hire a sideswipe collision lawyer after an accident is to help you recover as much compensation as possible for your injuries. You likely have expensive medical bills that need to be paid, and you may also need to miss work while you heal. There's also the physical and mental distress of your ordeal to consider.
By working with a Houston sideswipe accident attorney, you may be able to recover compensation for:
Medical bills, including the cost of any future care and transportation to your appointments
Lost wages and diminished future earning potential due to your injuries
Pain and suffering from your injuries
Mental and emotional distress related to your accident
Physical Impairment
Exemplary damages to hold especially negligent drivers accountable for their actions
Property damage
Legal Liability for a Sideswipe Collision Accident
In most cases, the fault for a sideswipe accident lies with the negligent driver who hit you. Texas law requires drivers to follow the rules of the road and take reasonable precautions to avoid causing an accident. You have the right to financial compensation if a careless driver injures you.
Regardless of who is liable for a sideswipe accident, you will need the right evidence to back up your case and secure compensation for your injuries. A sideswipe accident lawyer can help you find evidence to support your case, such as:
Police accident reports
Surveillance photos or video
Photographs of the vehicles and the scene of the accident
Eyewitness accounts
Forensic accident investigations
Medical records
Testimony from expert witnesses
What Should You Do After a Sideswipe Accident?
After a sideswipe accident, the most important thing to do is seek medical treatment right away. The longer it takes you to see a doctor, the worse your injuries could get, and the more likely you will suffer permanent effects.
Once you have called 911 after the accident, take a few minutes to take photos of the accident scene if you are in the condition to do so. You will also want to get the other driver's name and insurance information.
After consulting with a doctor, hold on to all your medical records, as they are evidence of your injuries. Do not give any recorded statement to an insurance company yet, not even your own. The insurance companies will be looking to pay out as little as possible if you file a claim, so you need to be extremely careful about what information you share with them.
Talk to an attorney as soon as possible after starting medical treatment. A car accident attorney can handle most elements of a personal injury lawsuit for you and take over negotiations with the insurance company, so you have the best possible chance of recovering the money you need and deserve.
Contact Our Experienced Houston Sideswipe Accident Lawyers Today
You do not have to face the fallout of a Houston sideswipe accident on your own. The car accident attorneys at The Callahan Law Firm are here to fight for your rights and assist in your recovery in any way we can. Our sole objective is to represent people in personal injury claims and seek maximum compensation for people injured through someone else's carelessness.
Contact us online or call our office for a free case review today.