Trucking Accident Settlements in Houston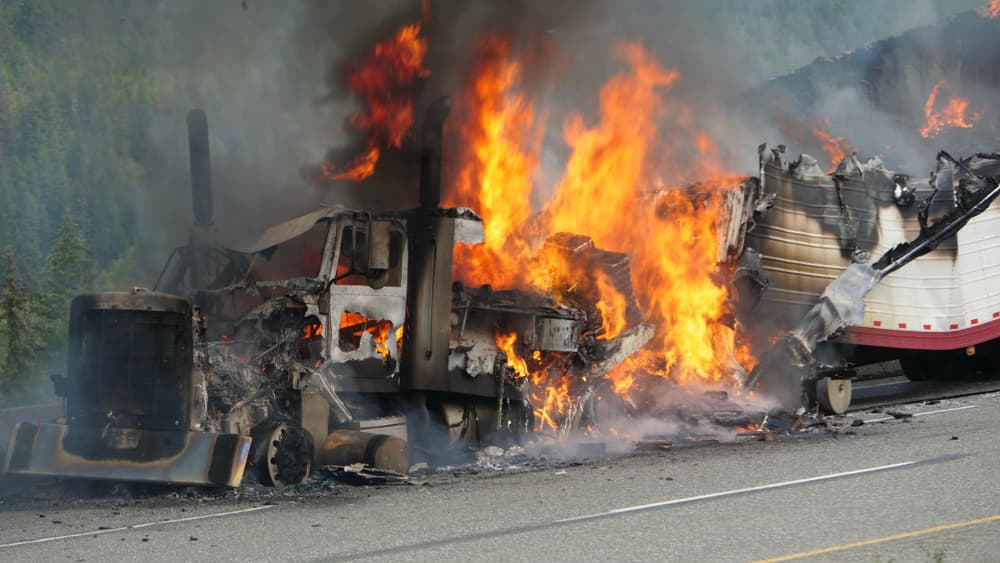 Trucking accidents are a daily danger for motorists in Houston and across Texas. According to the Texas Department of Transportation, there were over 30,000 accidents involving commercial vehicles statewide in one recent year alone. These crashes killed 581 people and injured over 5,000.
Truck accident victims are often left with devastating injuries, massive medical bills, and a long road to recovery. If you've been injured in a truck accident in the Houston area, you could be owed money for these losses. A truck accident lawsuit could be the best way to secure the settlement you deserve.
The truck accident lawyers at The Callahan Law Firm have been helping people like you get compensation and justice for over 25 years, recovering millions of dollars on their behalf. And because we charge no attorney fees unless we help you collect compensation for your injuries, there's no risk in demanding the justice you deserve. Contact us online or call us today for a free initial consultation.
Why Truck Accident Settlements Are Different
Several factors make truck accident claims different than typical car accidents, such as the following:
More severe injuries — A semi towing a full trailer can weigh up to 80,000 pounds. A semi-truck towing an empty trailer is still 10 to 20 times heavier than most passenger cars. This means that a truck impacts with greater force in a collision, causing more severe injuries for anyone the truck hits. More severe injuries also mean more expensive medical bills.
More potentially liable parties — The only liable party in many car accidents is one of the drivers involved. In truck accidents, it's often not so simple. The truck driver may be partly at-fault for the accident if they were impaired or distracted. But the trucking company may also be responsible because they didn't thoroughly vet the driver before hiring them. The company who made the truck or certain parts could also be to blame if a mechanical defect contributed to the crash. Maintenance workers or cargo loaders could be held liable if they failed to make sure the truck was in good working order and all the cargo was properly secured. More liable parties mean filing more claims to recover full compensation for your losses, making for a more complicated case.
Defendants with deep pockets —Trucking companies and their insurers have access to legal resources most people cannot afford. This makes it easy for them to bully crash victims into accepting a lower settlement than they should. A truck accident lawyer can help you push back against the insurance companies so you can get the money you need for your medical treatment and other expenses.
What Kind of Settlement Can I Expect?
If you try to handle a lawsuit on your own, you can expect a low semi-truck accident settlement offer from the trucking company or their insurer. They know that you're hurt and amassing expenses. They'll likely try to pressure you into accepting a quick settlement so they can close the case and move on. Unfortunately, once you sign a settlement agreement, you will likely lose your chance to recover any additional compensation down the road. In fact, that's exactly what the other side is banking on.
On the other hand, working with a truck accident attorney gives you a much better chance of getting a settlement offer that compensates you for the full extent of your losses. A truck accident lawyer can find additional evidence to support your claim and fight back against pushy insurance companies and their lowball offers. With the right evidence, your attorney can pressure the insurance company into offering a fairer settlement to avoid a long, expensive court battle.
What Goes Into a Truck Accident Settlement in Houston
To calculate the potential value of a truck accident settlement, your attorney will need an accurate account of all the expenses you suffered due to the collision. This includes losses such as the following:
Your past medical bills
The cost of any future care you may need
Your lost wages
How your injuries may impact your future earning potential
How your injuries impact your quality of life
The physical pain caused by your injuries
Any emotional distress caused by the crash
Any damage to your personal property
A truck accident lawyer can help you show these losses using evidence. You may need to gather medical records, bills, paychecks, and keep pain journals. The more evidence you have to substantiate these losses, the more money you're likely to receive in an 18-wheeler accident settlement.
Injuries in Commercial Truck Accident Settlements
Because the injuries caused by truck accidents tend to be particularly severe, victims can typically demand more compensation. Some of the most common injuries that stem from truck accidents are:
Traumatic brain injuries
External head injuries
Spinal cord injuries
Back and neck injuries
Internal organ damage
Internal bleeding
Damage to muscles, connective tissues, and joints
Burns
Broken bones
Psychological distress
What Is the Average Semi-Truck Accident Settlement in Houston?
You may be asking yourself, what is the average settlement for an 18-wheeler accident? While that's an understandable question, each case is different. There's no way to say what an average payout for an 18-wheeler accident in Houston is. Countless factors can impact your truck accident settlement value. It may be difficult to say what your settlement could be until an attorney has a chance to evaluate your truck accident case. That's why it's important to consult with a truck accident lawyer as soon as possible.
Calculating the Value of a Potential Settlement
The value of a potential truck accident settlement comes in two forms, specifically:
Economic damages — These compensate you for the losses you can put a specific dollar value on, such as your medical expenses, lost wages, damaged personal property, and reduced earning potential.
Non-economic damages — These compensate you for losses that are harder to assign a definite dollar value, such as pain and suffering, emotional distress, and diminished quality of life.
The greater your losses, the more the compensation you may be owed. A personal injury attorney can help you calculate your losses and pursue financial recovery.
Contact Our Experienced Houston Truck Accident Lawyers Today
If you've been injured in a semi-truck accident in Houston, you need legal help right away. Contact us online or call The Callahan Law Firm today to speak with one of our experienced Houston truck accident attorneys